Products and Services
Retail Business Software Solutions
System Modules Navigation
---
Point of Sale
top
---
RCS Point of Sale module provides two distinct facilities: POS - registers: a specialised data entry system running on either purpose built POS registers or a web based PC with cash draw. POS - finance sales: An online web catagory that enables the user to create a rental transaction, consumer mortgage, interest free or cash sale in real-time.
The four key types of transactions that can be entered through registers using the POS module are:
Sales & Reversals: Cash Sales, Charge Sales, Customer Orders & Laybys
Cash Receipts: Cash, Credit Card or Cheque Payments against accounts
Cash Register: Quick Entry Sales
Customer Maintenance: add new customers and change of address etc
Additionally, you can use a workstation to enter a Finance (eg: Rental) transaction.
RCS POS integrates tightly with the RCS Sales, Stock and Debtors modules.
Functionality provided by the Point of Sale Module
(Note: Some functionality listed below may be site specific and not necessarily be included in our "hosted solution")
Rental Rate Calculator
"Finance Sale"

Identify/select the Customer/Debtor
PAF link addresss validation (using Australia post DPID)
Enter details and print Credit Application
Add stock items to the account
Add delivery/installation details
Intelligent furniture build at POS (Fabric, Foam etc)
Intelligent installation specifications
Add-on (promotional sale) prompts
Select rental rate type
Enter Payment details (for first payment)
Record reason for purchase
Print Contract

Cash Receipts

Validate account number or select from a list
Display current "payout figure"
Check credit limit (real time)

Quick entry sale (Serialised or Un-serialised)
Print receipt, sales docket or invoice
Allows multiple tender types with an option to apply credit card fees
Management Functions

Till Balance, Pay into Till, Pay out of Till
Cash a Cheque
End of Day processing
Sales Module
top
---
The Sales Module is fully integrated with the Stock and Debtors modules. As the sales entry applications automatically add new debtors (or select from existing debtors) and creates new accounts as required, it can be said that the Debtor's module has its beginnings in the Sales module.
After a sale is entered and approved, a number of key transactions are automatically performed, eg: Link stock items to the Debtor's account, update sales and gross profit figures. All delivery paper work and audit trails are generated from the sales process. The Account is in Waiting status until delivery of all items associated with an account are confirmed as "Delivered".
Functionality provided by the Sales Module
(Note: Some functionality listed below may be site specific and not necessarily be included in our "hosted solution")
Batch Sale Data Entry (for manual sales)

Rental Sales
Cash Sales (eg: where selling faulty goods back to a proprietor)

Credits or Part Credits - where a customer returns some or all of the goods purchased (also known as tax adjustment)
Schedule and monitor deliveries
Ability to handle ProForma suppliers
Customer Order Maintenance (update details on a sales order prior to delivery)
Reports

Stock and Sales report (refer stock system)
Stock and Sales enquiries (Both "new business (written) " and "delivered sales").
Unit Sales Analysis and summaries by department, product group, store, etc
Departmental Analysis
Salesperson Commission

Sales Summary
File Maintenance (eg: sales and markdown budgets by location)
Tyro EFTPOS
top
---
Evolving Solutions Integrated EFTPOS connects your Point of Sale with your terminal, making it the fastest and easiest way to sell.
When it comes to saving and speed, Evolving Solutions recommends Tyro Broadband EFTPOS.
www.tyro.com
As the first entrant into the Australian EFTPOS business in over fifteen years, Australia's first and only fully independent acquirer, Tyro provides credit, debit and EFTPOS cards and operates under the supervision of the Australian Prudential Regulation Authority (APRA).
With lightning fast Broadband EFTPOS, processing in under five seconds, no sign up fees and no exit fees, kiss your phone line goodbye!
For more information contact Peter Thompson on (02) 8907 1775, or to begin a risk-free trial, simply complete an application form.
Purchasing Module
---
Purchasing system allows the ordering of stock from suppliers and the monitoring of outstanding orders. The purchasing system is linked to accounts payable to facilitate invoice matching for the payment of received goods. The system also records rebates.
Functionality provided by the Purchasing Module
(Note: Some functionality listed below may be site specific and not necessarily be included in our "hosted solution")
Purchase Order Entry
Credit Claim Entry
Merchandise Plan - Open to Buy
Suggested Purchase Orders
Goods Receipt Entry
Supplier Analysis
Back Order Listing
Rebate Maintenance
Expected Rebate Reporting
Outstanding Orders Report
Unmatched Goods Inwards Report
Accounts Payable Interface Invoice Matching
Outstanding Credit Claims Report
Buyer Central - a centralised ordering system enabling the buyer to view all sales and stock information relating to a selected product range. Proposed orders can be recorded and then turned into finalised orders at the completion of the review (all proposed orders for the same supplier are consolidated onto the same purchase order).
B2B (EDI) orders, order responses, pricats
Debtors Module
top
---
The Debtors module enables you to manage Debtors, Accounts, Credit History and Stock associated with an account. Each sale transaction that involves the giving of credit creates an account. Each account is allocated a unique number including a check digit (if required) for validation. Each customer will have only one "debtor" record but may have many account records (one for each rental, interest free, consumer mortgage or cash sale transaction). Access to debtor or account information can be via name, address, account number, phone number or stock item. A number of indicators can be stored against a debtor (eg: Pensioner, Unemployed, etc) or account (eg: No statements).There is an automatic credit approval system with a user definable point scoring system that is linked directly with Credit Advantage credit reference database. The system automatically bills customers monthly, on the anniversary of their account start date and generates follow-up correspondence such as user definable arrears letters and repossession orders. User definable fees and charges can be applied for letters and credit follow-up etc.
Functionality provided by the Debtors Module
(Note: Some functionality listed below may be site specific and not necessarily be included in our "hosted solution")
Various Account types: 7 day, 30 day, Interest Free, Rental, Consumer Mortgage
Debtor Maintenance (eg: title, address, phone number, etc)
Interface to online sale facility for account creation and credit application
Credit application entry and maintenance
Automatic and manual credit approval with override capability
Debtor Enquiry (Accessed via Debtor, Account or Stock Item)
All Accounts enquiry (display all accounts for the selected Debtor)
Credit History Enquiry/Update
Account Maintenance (eg: indicators, start date etc)
Account Schedule Maintenance for Active Accounts (eg: term, rate, residue etc)
Various payment options, including Direct Debit, BPay, Australia Post Bill Pay and Locked Bag.
Cycle Billing
Account Renewals (Continue to Rent)
Account Pick-Changeover Facility:

Change of Serial Number
Pickup Stock Item
Deliver Stock Item (eg for Service Changeover)

Paid in Full Facility
Warranty History Maintenance
Rental Rate Maintenance
Rental Retention Analysis
A comprehensive set of reports covering customers, accounts, analysis of terminations, unearned rental income projections, cash dissection, trial balance, statements, summary of intercompany transfers and more...
Letters:

Reminder Notices
Default Notices
Thankyou Letters

Account purge (inactive accounts)
Manage duplicate debtors
Joint Debtors
Point of Sale interface - provides download of account details and changes to instore registers. Information includes: Account Number, Plastic Card Number, Name, Adress, Credit Limit, Current Balance
Plastic card issue
Credit Refusals Database
Creditors Module
top
---
The RCS system provides a comprehensive accounts payable capability, including the ability to pay suppliers via automatic cheque generation, ad-hoc cheque generation, manual cheque entry or electronic direct credit. Suppliers payments terms (including rebates) are entered into the system and you can select options to automatically pay suppliers to achieve early payment discount. The system records contact details for all suppliers and you have the ability to define makes (eg: Bonaire) and suppliers (eg: Southcorp Appliances) as separate entities. You are provided with a facility for matching invoices to orders prior to making payment. Exceptions are highlighted if the invoice does not match the purchase order (within a pre-defined tolerance level). The Creditors module is fully integrated with the General Ledger to ensure that all transactions flow through to Profit and Loss and Balance Sheet reporting.
Functionality provided by the Creditor Module
(Note: Some functionality listed below may be site specific and not necessarily be included in our "hosted solution")
Manual Payment Selection
Transaction Type Maintenance
Standard System Reports, eg:

Supplier Invoices Report
Remittance Advices
Cheque Register
Cheque Summary
Aged Trial Balance
Special Incentives Report

Maintain/display Supplier Details, eg:

Contact Information
Rebates and Incentives

Record and display invoice details
Supplier Payment

Invoice Matching
Automatic Payment
Cheque Entry and Reversal
Cheque Release
Cheque Printing
Record and initiate Direct Credit payments

Balance Creditors to General Ledger
Credit Claim Management
Online Batch Entry
Aged Trial Balance
Daily/Prompt and Monthly Processing
Interface to the General Ledge
Service Module
top
---
The service module provides the ability to maintain information about and report on the servicing of products. Using the service module you can book in jobs, track work in progress, record spare parts and bill customers. The system will calculate the labour content of jobs based on pre-defined charge rates and time recorded against the job. Full service history is maintained and you can access information via the job number, stock-id, serial number, account number or customer name. The system enables you to maintain a database of fault codes that can be used to analyse trends in faulty units. A technician database enables you to allocate technicians to jobs and produce reports on productivity. The service module is fully integrated with the Debtors, Stock, Sales and General Ledger modules.
Functionality provided by the Service Module
(Note: Some functionality listed below may be site specific and not necessarily be included in our "hosted solution")
Enter and maintain job details (Job Number, Account Number, Phone Number, Surname and Initials, Model and Serial Number).
Add technician time against a job - this could also be a third party service provider.
Maintain service type eg: Field Service, Workshop Service, Stock Repair, Warranty Service
Maintain technician details (eg: Name, store, charge rate, etc).
Maintain fault codes (eg: No picture, no sound, picture rolls, etc)
Maintain Job Status Codes (eg: Allocated to technician, awaiting parts, ordered parts delayed etc)
Maintain IRIS (fault) codes
Browse jobs (all jobs, by status, by technician etc)
Display service history - stored against the Job, each notation includes the date, time, debtor, model, serial number and job number. You can also add free format text as a comment.
Print job cards
CESA manufacturer"s claims
Automatic creation of debtor and account for chargeable work
Stock Module
top
---
The RCS Stock Module provides you with the ability to control stock at four levels:
Serial Number Control (big ticket items eg: Furniture, TV's, Fridges etc)
Item Number Control (Minor items eg: toasters, irons, etc)
Standard Costing at department level (Sundry items eg: spare parts)
Perpetual (Stock where a quantity is not required but is used for delivery charges)
Each stock item is assigned to a particular classification and department. Item Number and Standard Costing items are always treated as "new". Serial Number controlled items may be "new", "trade-in" or "rental", depending on the origin and movement of the item. Costing for each transaction is performed automatically by the system.To maintain the relationship between stock and accounts, each major item currently on rent maintains a reference to the customer account number to which it is rented. Similarly, those items returned or traded-in maintain a reference to the account number involved.All modules involving the movement of stock are tightly integrated with the stock module to ensure that accurate records of stock holdings are maintained at all times. Costing is at original actual cost for serialised stock items, average cost price for minor stock and percentage of the retail price for sundry items.
Functionality provided by the Stock Module
(Note: Not all functionality listed below is included in our "hosted solution")
Stock Costing - is handled automatically by the system. Manual adjustments may also be performed. The stock module is integrated fully with the General Ledger.
Stock Write-on
Stock Write-off
Stock Transfers
Furniture build functionality (including the ability to specify fabric metreage, foam density, white price etc). Automatically builds sell price to order, raises purchase orders (from multiple suppliers if necessary) and sets cost price at booking time.
Trade-ins
Write-ups/ Write-downs
Stock File Maintenance - change details such as serial number
Stock Enquiry
A wide variety of reports enable you to list stock quantities and value by location, view stock transactions, price variances, view depreciation, print barcode labels, manage stocktake etc
Stock Revaluation
Goods Inwards Processing
Bulk Warehousing (including Radio Frequency Support)
Delivery Scheduling
Rebate Tracking
Credit Claims
Stocktake (serialised or un-serialised)
General Ledger
top
---
The General Ledger Module provides you with the capability of recording and reporting the financial situation of the organisation. The financial data is generated by other modules (eg: Debtors, Creditors, Sales etc) or may be posted using general and standing journals. Accounting periods are user definable and financial statements may be produced for any period during the current or previous year. The financial statements can be produced for individual profit centres, at the company level or consolidated for a group of companies.Account balances and postings may be reviewed at any time using display or print functions and detailed ledger listings are also available. Budget figures can also be entered to enable variance reports to be produced.The Chart of Accounts is based on a 6 character number that uses the first four characters to define the main account and the last two (00 to ZZ) as a sub-account.
Functionality provided by the General Ledger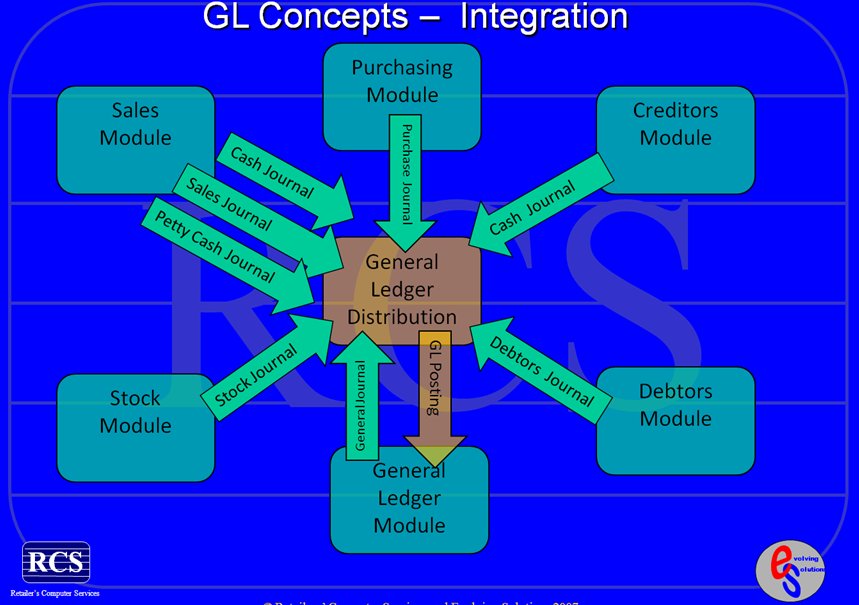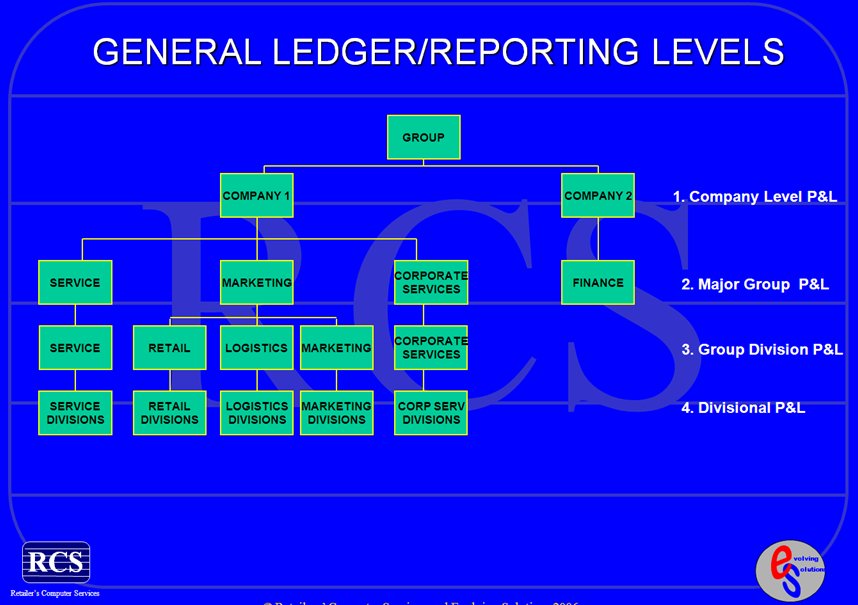 (Note: Some functionality listed below may be site specific and not necessarily be included in our "hosted solution")
Chart of Accounts
GST control maintenance (GST rate, Accounts for Input Tax Credits etc)
Production of information for the Business Activity Statement (BAS)
Transaction type maintenance (Journal Number, DR and CR Account Numbers, GST applicable etc)
Interface to other RCS Modules (eg: Purchase Journal, Sales Journal, Cash Journal, Debtors Journal)
Reporting

Detailed Account Display/listing
Monthly Detail Report
Monthly Trial Balance
Standard Profit and Loss Report
Divisional Profit and Loss Report
Balance Sheet
Performance against budget

Record Budget Details
Account balance update (monthly)
Automatic Intercompany Journal Facility
The General Ledger functionality is Multi-Company, Multi-Divisional and Multi-Group.
RCS Core Module
top
---
The Core system module provides all system control tables required to enable the system to operate. All implementations of the RCS system must include at least this module.
Functionality provided by the RCS Core Module
User definitions (security by userid and profile)
User defined restrictions on concurrent log-ins
Menu Definitions
Control Table Maintenance for system parameters, eg:

Depreciation Rates
Letter Types
Transaction Type
Account Ledger Codes
Stock Control Types
Sales Departments
Major Product Groups

System Control

Daily Jobs
Monthly Jobs
Ad-hoc Jobs
Job Streaming

Problem Reporting System
One set of User Manuals
Access to RCS maintenance program
Functionality in the Core system module is Multi-Company, Multi Store.